BJ MacEachran
aka "Cowgirl"
Owner/Admin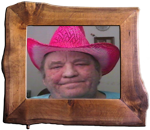 Don MacEachran
aka "Cowboy"
Owner/Admin
Welcome to Touchdown Hits
Before You Join Touchdown Hits, If you continue to browse and use this website, you are agreeing to comply with and be bound by the following terms and conditions of use.
You agree to use
Touchdown Hits
only for lawful purposes, and in a way that does not infringe the rights of, restrict or inhibit anyone else's use and enjoyment of
Touchdown Hits
What Touchdown Hits

is not!!!

We are not an investment program, multi-level marketing program, High Yield Investment Program, "autosurf", randomizer, matrix, pyramid, Ponzi scheme, "get rich quick" scheme, or other similar venture.
We will not allow the use of our service for the promotion to or from any underage, illegal, immoral or illicit purpose.
If you do not accept the below terms or feel any of these terms are not to your acceptance then 
DO NOT JOIN
MEMBERSHIP STATEMENT OF AGREEMENT:

I (member) have thoroughly read and understand all
Touchdown Hits
terms and conditions. In joining as a FREE MEMBER or purchasing a Touchdown Hits advertising account I am automatically agreeing to these stated terms and conditions.